Press Releases
National Fruits & Veggies Month 2023 Toolkit Makes It Easy To Promote Fruits & Vegetables This September
The 2023 Theme Every Time You Eat, Have A Plant® Celebrates Produce Across Various Points Of Influence Within The Consumer Consumption Journey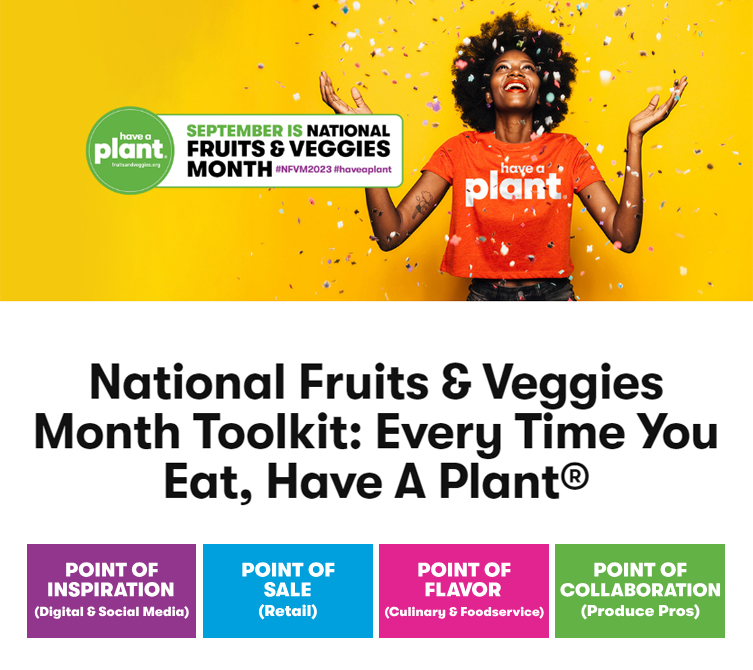 July 11, 2023 – The Foundation For Fresh Produce (FFP) is gearing up to celebrate the fifth annual National Fruits & Veggies Month (NFVM) this September. Launched alongside the Have A Plant® Movement in 2019 as an opportunity to elevate fruit and vegetable consumption to a national priority, the annual month-long observance has reached more than 260 million impressions collectively since its inception. To keep the momentum going, the organization is committed to making it easy for the industry to get involved with its new 2023 National Fruits & Veggies Month Toolkit, so all can take part in the celebration of everyone's favorite and flavorful plants – fruits and veggies!
This year's 2023 Theme: Every Time You Eat, Have A Plant®, explores all the ways we celebrate fruits and veggies throughout the consumers' consumption journey, the journey they make from the fields to our tables and the joy they bring us along the way. While shopping, dining out, enjoying a meal with family, snacking, hosting or brunching, every time you eat, Have A Plant®.
A recent report, Hacks To Habits: A Behavioral Research Study To Bolster Fruit & Vegetable Consumption, showed that piggybacking off moments in time when people are already eating or enjoying other foods they love can present an opportunity to increase fruit and vegetable consumption [40% of high-medium vegetable consumers said they add fruits and vegetables to favorite dishes, meals and snacks and 43% said they add vegetables to sandwiches and burgers]. This September, let's lean into those moments to shine light on how we can Have A Plant® at every turn throughout the day and the week and that present immediate rewards like taste and enjoyment to create new fruit and vegetable consumption habits.
Whether you are looking for ideas to implement at retail, if you're a chef looking for ways to incorporate more produce on menus, or if you're a plant-passionate advocate or produce industry marketer looking for fun ways to spread the Have A Plant® love on social media, the toolkit covers it. From segmented easy and fun activations, promotional ideas and opportunities to new and engaging social media tiles and GIFS for people to engage with followers and create user-generated content, there is truly something for everyone to get involved.
"September is a pivotal moment for our industry to rally around the Have A Plant® Movement and inspire millions of Americans to eat more fruits and veggies for happier, healthier lives," said Katie Calligaro, Director, Marketing & Communications, FFP. "This toolkit was designed with the industry in mind and to make it easy for everyone to participate. We challenge every company to create at least one activation; schedule at least one social media post, one consumer-facing newsletter promotion or one programmatic activity within their organization to get people to eat more produce."
Here are some simple ways any organization can participate and start planning TODAY!:
Post weekly on your social channels, showing extra love for NFVM. Find sample social media posts as well as downloadable graphics on the Point Of Inspiration page in this toolkit. Or, click to download the National Fruits & Veggies Month logo below and create your own! Use the hashtags #haveaplant and #NFVM2023

Highlight NFVM in a consumer-facing newsletter with one of the images from our Point Of Inspiration section as an ad or promo graphic. Link it to www.fruitsandveggies.org/NFVM.
Drive awareness about NFVM on your personal or company LinkedIn pages to increase awareness and show your personal commitment to improving fruit and vegetable consumption in America.
Leverage NFVM as a media hook for your consumer-facing print or broadcast media opportunities this month.
Share stories from farmers and growers that demonstrate the journey and care that goes into growing them (e.g. A day in the life of an onion) and how produce gets from the field to the table. The emotional connection and the eagerness to learn about where food comes from continues to inspire purchase behaviors.
Educate consumers with fun facts and quick stats on how to best select, store, savor, and share your favorite produce. Get tips from our Fruits & Veggies Section on fruitsandveggies.org.
The National Fruits & Veggies Month Toolkit is available FREE for download HERE.
For more information about how to get involved in NFVM, and how to customize your integrated September marketing plans with FFP, contact Katie Calligaro, Marketing & Communications Director, FFP.